Products Catalogs & Keywords:
Products Image: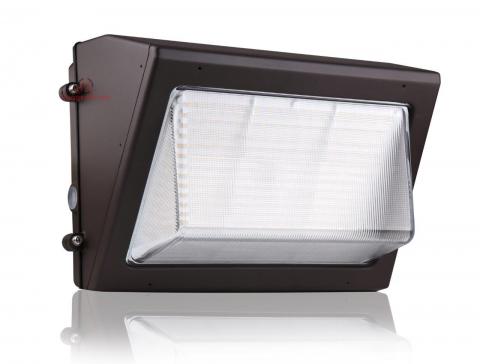 BETTER DESIGN - DLC came back at 147 Lumens to watts! Even better than expected! New Lumileds SMD 2835 LED modules produce 145 Lumens per watt - Save even more by using a lower watt unit. Compare the lumens against others. Premium grade components make this an industrial grade LED Wall Pack Light.
BRIGHT LIGHT - Rated at over 145 lumens per watt by DLC. 11,600 Lumens can replace a 250 Watt Metal Halide or High Pressure Sodium. 5000K light color ensures a bright clear light. 110 degree beam angle creates a wide light distribution. High 84+ CRI for clear and accurate color rendering.
DURADO III SERIES - Durado III adds 0-10v dimmability, top level DLC 5.1 Premium certification and a new clean design that hides any screws from visibility. Heavy duty aluminum housing and durable glass lens that won't turn yellow due to exposure to sunlight.
LONG LASTING - 150,000hr SMD 2835 LED chips for a lifetime of use. 36,000hr+ L90 rating for 90% or greater brightness for over 36,000hrs of use. Forget those old HID (Metal Halide, HPS, etc.) that can lose 50% of their brightness after 10,000hrs of use, fail in 20,000hrs or less and use 3 times the power of our LED lights.
PHOTOCELL OPTIONAL - Photocell models available for easy dusk to dawn capability. Don't waste light during daytime hours, lights with photocells will turn on automatically when it gets dark at dusk and back off when the sun comes back up at dawn.
MOTION SENSOR WITH 3-STEP DIMMING - Full brightness when motion is detected. Light will then dim to a set level for a set amount of time and can either stay dim until the motion sets it back to full brightness or turn off completely until motion is detected again. Dim settings and time frames through these different stages are all programmable with the remote control (sold separately, only 1 remote needed to program multiple lights).
CERTIFIED - UL Listed and DLC 5.1 Premium verified for safety and rebate eligibility. UL Certified products ensure better quality, safety and reliability. DLC is the Design Lights Consortium for independent verification of performance.
EASY INSTALL - Unit has 3 conduit entrance locations and 1 side location. Circle punch out in rear. Mounting is a breeze with the various mount points on the back plate and variety of options for wiring into the fixture.
Price:- $154.99
Website:- https://www.ledlightexpert.com/80-Watt-LED-Wall-Pack-WITH-MOTION-SENSOR-...