Products Catalogs & Keywords:
Products Image: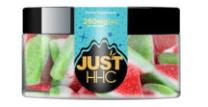 The 250mg HHC gummies watermelon slices offer a fun way to get high and experience the relaxing euphoric effect of the cannabinoid. You can feel the effect of these gummies after 30-40 minutes. HHC hemp derivate is infused with corn syrup, sugar, gelatin, vegetable oil, food colors, white grape juice, flavors, and sorbitol to make the watermelon rings. Fruit pectin is used in place of gelatin to make gluten-friendly watermelon slices. The watermelon slices package has approximately 10 gummies, each having 25mg of HHC. A single serving contains 30 calories, 2g sodium, 7g carbohydrates, and 10g sugar. The recommended dosage is 1 gummy for 8 hours. Beginners can take half a gummy for the same period, or until they have built HHC tolerance, while experienced users can take at least 30mg to feel the HHC effect.
These watermelon slices should be kept away from children. One should be above the legal age limit to access these HHC gummies. In addition, users should not be pregnant or lactating, on medications, or have medical conditions. HHC can induce a high effect like delta-9. This cannabinoid can also cause dizziness, disorientation, nausea, and drowsiness. Consumers should not operate machines after taking the HHC watermelon slices. Taking HHC may give positive results in a drug test because these drug tests do not differentiate isomers.
Price:-$24.99